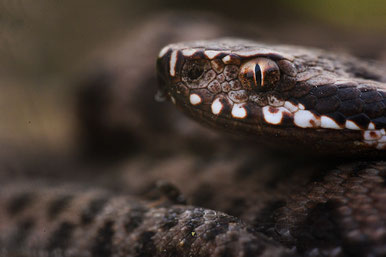 Before my last finals in my masterstudies I had to do the last trip... Lennart and me calculated very long which destination we should pick, since the end of August/beginning of September aren't the best time to search for vipers. The weather forecast forced us to react quite spontaneous and so in midday on Wednesday my phone rang and Lennart just asked me: "Should we start now?" Me: "Let's start now!" So I throw my stuff into my car a drove towards Heidelberg. After a nice dinner with Lennart and his girlfriend we started our drive to our destination. After one hour of driving, we stopped at a trainstation.. there we saw a weirdo waiting for something with camera stuff and baggage. We just thought it would be nice to take him with us. After a short chat it turned out that the guy we picked up was also a viper enthusiast named Andre Schmid ;-) We drove through the night and arrived at our destination just at viper o'clock. Without a break we started early and after a while the team found 4 Bosnian adders and 2 fleeing Natrix (I had no luck finding any of these). After it was getting hot we went to our apartment for the night and just relaxed and went out for our first dinner.
The next day started badly, with car problems and no clouds at all. Since it was pretty hot already the mood wasn't that good so we started (too) early with the search for Vipera ammodytes. We couldn't find anything and since we were very worried about the car we drove to a garage just a view minutes away. The workers were very very fast and good and after 45 minutes the Renault legend was working again. Since we thought the vipers must be out by now, we tried ammodytes again and this time with success. Two pretty males and 3 sheds, that must be a very good place for them. After a quick photo session, we drove to Slovenia, cause we wanted to find something very unique, Proteus anguinus. We went to a little cave and found 2-3 Olms in there, but spooked them with our lights before getting any images.. very poor. After that we picked up a new Slovenian friend, Nejc Rabuza. After we put down our stuff to our B&B we wanted to start another Olm session, this time without success. No images for me, maybe next time!
Our next target was Vipera berus berus high up in the mountains of Slovenia. When we arrived at the mountain the sun was burning down and after a view minutes Nejc spotted the first adder, let the game begin! After a few hours the team (Andre and Nejc :'D) found 4 adders and since it was getting too hot we decided to have lunch and start to our next target, Vipera aspis francisciredi. Since Italian traffic is shit we drove very very long for a short way and arrived at our B&B very exhausted. It seems that we weren't exhausted enough, cause we started with a try for aspis in the late afternoon and some amphibians. We didn't have any luck with reptiles though, but at least found 3 amphibian species, Rana dalmatina, Rana latastei and Hyla intermedia!
We started early to be in time at the aspisspot. Since the ssp. francisciredi is my nemesis, cause I tried often to find it and never had any luck, my doubts were quite high that we would manage to find one. Nejc was pretty confident, since he knew the spot very very well. It took some time searching in the hot sun, but finally Lennart and me was able to break my francisciredi-spell. We weren't that happy than we should have been, cause the forest was full with mosquitos and horse flies and the female we found were pregnant, so we let her go after a very short photosession. After this encounter we drove back to Slovenia and had to say goodbye to Nejc! So: Thank you very much man, it was a pleasure herping with you, see you on our next trip to Slovenia (soon)! Our final destination was the famous Soca valley. After arriving in the sun the weather turned to much rain and we couldn't find any more snakes that day. So we went over to shoot some frogs and stars.
Our last day should be rainy too, but with a little bit of sun we managed to find a dice snake and a youngster ammodytes from this year. When the rain hit in, we just drove around and enjoyed the landscape. We ended up looking at the clouds moving in the valley from a mountain top, which was pretty epic. The day ended with some mandering, where we just found 2 freshly metamorphized youngsters. The next day, we just stopped for a short searching session for Vipera berus with no success and a stop for I. horvathi with just little success.. After a very very long and dangerous drive, we all managed to get home.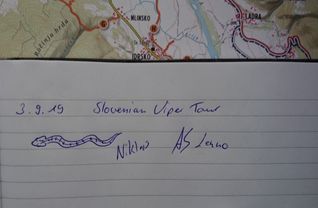 In the end, I have to thank my teammates Andre and Lennart for the nice trip! It was a pleasure as always! Thank you Nejc for your hospitality, see you soon! Thank you Alex and Ivo for the advice! Slovenia is always the nicest area to visit and I am sure we will be back soon.