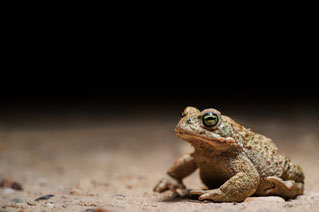 The ending of the herping season was close, so Lennard Schmid and I decided to go for a last, short and heavy vipertour. Since Lennart knows Slovenia quite well and I had a few nice spots in Croatia our destinations were fixed very fast. At the 9th of September I started from Cologne with the ICE to Mannheim. After a long, long journey Lennart picked me up at the main station and we went straight herping. First, we went on a walk for amphibians in his surroundings and we had a nice number of species. Since we wanted to start herping at the next day in Slovenia, we drove through the night and arrived in the early morning. For the next days we searched through the valleys of Slovenia for different species of the herpetofauna (shown below). After one and a half day we went to Croatia for some different species.
During our stay in Croatia we visited different sites and missed one of our main targets (Vipera berus bosniensis) but found other great species (Vipera ursinii ssp.). Cause of the dry and hot conditions the number of animals was quite low, but at least we found a few nice species and had a lot of fun in the karstic areas of Croatia.
We had a long way back to Germany and so we started our journey after a very short herping session. We had a lot to laugh on our way back, maybe more than normally cause our low level of sleep during this trip. In the evening we arrived Munich where Lennart dropped me out, cause I wanted to visit my best friend in her hometown. The herping didn't stop at this day at least for me. The next day I and Theresa went to meet up with Laura and Bobby Bok! It was very nice to meet both and beside a lot of chats we even managed to find 5 adders! What a nice ending for this herping trip. The rest of the weekend Theresa and I spent our time eating Bavarian food, sightseeing and enjoying the sun. Poorly we didn't manage to get a rental car, cause we wanted to do a little trip in the alps. Bad luck, but there will be another opportunity. After all, it was a very funny and quite successful trip. Thanks, Lennart the trip was a good ending for this year's herpingseason (outside of Germany)! Thank you, Theresa and Nadine, for the nice time in Munich! And at least thank you very much Laura and Bobby Bok, it was very fun meeting you and I think not the last time herping around Munich.